Clic Clac H bracelet
CA$880
Enamel bracelet with rose gold plated hardware
Wrist size approx. 15.5 cm
FAPIAO INFORMATION
Please fill Fapiao information in Chinese.
* Required information
Cart
You have no items in your cart.

Want to return an item?
To request an exchange or a refund, please to your account
Personalize your product

Clic Clac H bracelet
CA$880
Enamel bracelet with rose gold plated hardware
Wrist size approx. 15.5 cm
* Required information
Here to help
But you can also contact us:
Frequently Asked Questions
See all FAQs
Measure yourself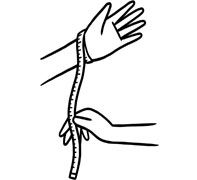 Taking the appropriate measures !
This bracelet opens and closes directly on the forearm like a cuff. Therefore, you only need to measure your wirst circumference when choosing your bracelet. A properly fitted watch strap can serve as your guide. However, you can also use a measuring tape. The chart below indicates which Hermès sizes correspond to measurements.
| Hermès size | Wrist circumference equal or less than |
| --- | --- |
| PM | 15.7 cm |
| GM | 17 cm |
| Hermès size | Wrist circumference equal or less than |
| --- | --- |
| PM | 6.2" |
| GM | 7.1" |
What if the item doesn't fit?
If you're not happy with the way the garment fits we offer free returns for 30 days after purchase. For more info please see our
Delivery and Returns FAQ
.
Add an address
Edit address
* Required information
Already have an account?
Create an account
Thanks to your Hermès account, you will be able to:
• Access your shopping cart
• Save your billing and delivery information to order faster
• Manage your address book
• Access all your orders and download the related invoices
• Manage your newsletter subscription
• Update your personal data
Account
Create an account
* Required information
Have a question? You may find an answer in our FAQs. But you can also contact us:
* Required information
Request an exchange
Request a refund
Exchange details
Refund details
Your return request has been submitted and you will receive a confirmation email shortly. Please follow the instructions below:
Prepare your package with the items to return and include your invoice.
Make sure the items are in their original condition and packaging.
and affix it on the parcel.
Ensure that you have removed the previous delivery label.
Drop your package at a FedEx® location within 10 days.
You will receive an email once your return is in our hands!
Prepare your package with the items to return and include your invoice.
Make sure the items are in their original condition and packaging.
and affix it on