Hermes - The official Hermes online store
Hermès à tire-d'aile

Les mondes de Leïla Menchari
For thirty-five years, the nonpareil storyteller Leïla Menchari was the imagination behind the window displays at 24, rue du Faubourg Saint-Honoré, each one a paean to superb craftsmanship. Their rich history is the subject of a show at the Grand Palais this autumn, from 8th November to 3rd December 2017.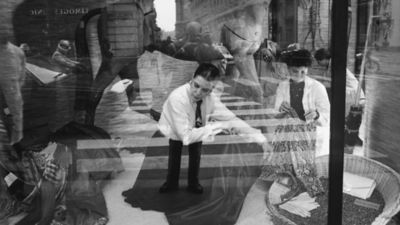 Encounter with a stunning storyteller
"I have always loved storytelling. And here, that's all I do."
 "Here", of course, is Hermès. Her home since 1961. That was the year when this graduate of the Beaux-Arts in Paris (and of the Tunis art school before that), a daughter of a strongly Francophile lawyer from a land-owning family in northen Tunisia, knocked on the door of Annie Beaumel, creator of the window displays at 24, rue du Faubourg Saint-Honoré. On seeing her drawings, Annie Beaumel, director of Hermès' window displays and pioneer of their extraordinary staging, was ecstatic: "You are a dreamer, aren't you!" and invited her to return, saying: "Draw me your dreams!". Leïla Menchari had found her profession: enchanting the many by giving free rein to her unbridled imagination.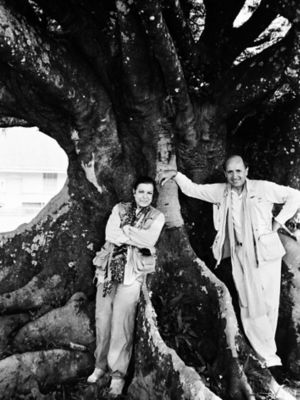 Displaying dreams in reality

Leïla, an admirer of Dalí and the Surrealists, discovered that "in the Hermès workshops, anything is possible." Including making her dreams reality. Elation, and dizziness: when reality can be raised to the level of dream, when the magic works, the challenge is to repeat the trick, which means constantly feeding and irrigating the wonder, raising the level of delight, spurring the imagination to be endlessly creative: audacious, in a word. Some job description! "And, at the same time, the result had to be impeccable. There was no room for approximation." What's more, all this had to be done four times a year, applying the annual theme to each new season.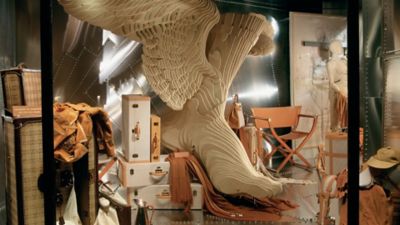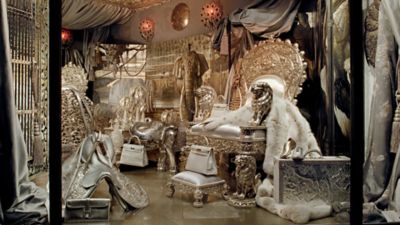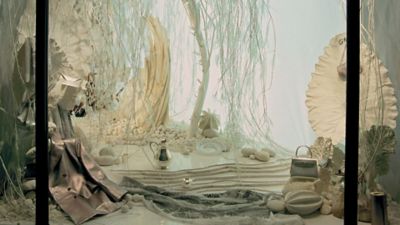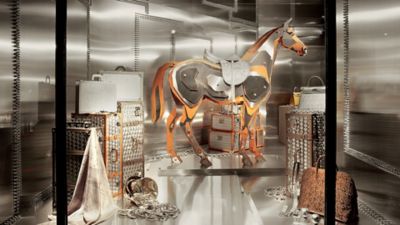 When designing a scene, there must always be some mystery, for mystery is the springboard to dreams. Mystery is an invitation to fill in the gaps left by the imagination. This is how Leïla Menchari explains one of the secrets behind the success of her flamboyant window displays. […]  With the 'Hermès à tire-d'aile – Les mondes de Leïla Menchari' exhibition, I invite you to share this otherworldliness composed of travel, mischief and beauty… Once again, Leïla Menchari is enchanting us.
Axel Dumas
Chief Executive Officer, Hermès
Exhibition 
8th November – 3rd December 2017
Grand Palais / galerie sud-est
Free admission 
#HermesLeilaMenchari
Credits:
Leïla Menchari painting
Photography: Jean-Louis Dumas
Something went wrong. Fear not, we will be right back

Something went wrong. Fear not, we will be right back
Thank you!
Your reservation request has been taken into account.

You will receive a confirmation e-mail from the store within four business hours.
Please, wait for the email confirmation before visiting the store.

FAPIAO INFORMATION
Please fill Fapiao information in Chinese.
* Required information
Cart
You have no items in your cart.

Want to return an item?
To request an exchange or a refund, please to your account
Here to help
But you can also contact us:
Frequently Asked Questions
See all FAQs
Add an address
Edit address
* Required information
Already have an account?
Create an account
Thanks to your Hermès account, you will be able to:
• Access your shopping cart
• Save your billing and delivery information to order faster
• Manage your address book
• Access all your orders and download the related invoices
• Manage your newsletter subscription
• Update your personal data
Account
Create an account
* Required information
Have a question? You may find an answer in our FAQs. But you can also contact us:
* Required information
Women

Ready-to-wear

Bags and small leather goods

Jewelry

Fashion jewelry

Apple Watch Hermès

Men

Ready-to-wear

Bags and small leather goods

Apple Watch Hermès

Home

Jewelry

Fashion jewelry

Fragrances

Shoes

Bags and small leather goods

Scarves and silk accessories

Equestrian

Reading and writing
Request an exchange
Request a refund