LA MAISON HERMÈs
Sustainable Development
Hermès' action for sustainable development is founded on the values passed down through the generations by the artisans who have shaped our house and our objects since 1837. The roots of our longevity lie in a sense of responsibility, a quest for authenticity, and respect for time and natural resources. We wish to leave a positive imprint on the world. Men and women, the communities that we belong to, and materials derived from our natural environment have been our constant companions from our very origins. Today, they are more than ever at the heart of our preoccupations and our commitment to progress.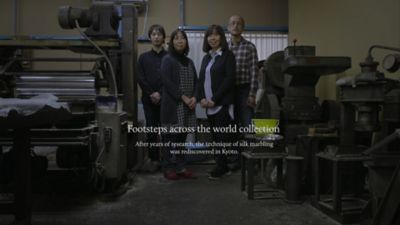 Footsteps across the world
Hermès endeavours to create objects that withstand the test of time and to forge lasting connections with the surrounding world. Film and documentary maker Frédéric Laffont, winner of the Albert Londres award, brings his humanistic perspective to bear as he walks in the house's footsteps and gives free rein to his camera.
With curiosity awakened, we navigate between stories and portraits, carried along by gestures and places, and taking discovery to the ends of the earth… Our relationship with sustainable development shines through this Footsteps across the World collection.
THE PLANET

In the sillage of fragrances: recycling and energy

All of the house's scents have been made in Vaudreuil in northern France. The manufacture is home to an olfactory library and closely monitors its environmental footprint.
 
WOMEN AND MEN

Tandem, a decade of open-mindedness

In late 2008, an artisan from the leather workshop in Sayat laid down his tools in Puy-de-Dôme to spend a week behind a counter with a sales associate at the faubourg Saint-Honoré store in Paris. It was the start of the Tandem exchanges. 
 
THE COMMUNITIES

Saint-Junien, fitting like a glove

Almost a century old, the Ganterie de Saint-Junien, situated on the banks of the River Vienne, is the oldest glove factory in France. Acquired by Hermès in 1998, it has been given a new lease of life.
 
Our 2016 registration document
Extract CSR from the annual report 2016
Sustainable Development, 82 pages, 1MB
Our imprint on...
Hermès possesses a total of 52 manufactures, 41 of which are located in France, and has more than 300 stores worldwide. Close relationships with suppliers, partners and markets are nurtured locally. We are committed to forging lasting ties with these different communities, and to assuming the role of corporate citizen, by developing, supporting, improving, renovating, cross-fertilising, interconnecting, and preserving local know-how.