Grand Manege bangle
DKK3,900
Wide bangle in printed enamel with gold plated hardware
Diameter: 6.5 cm | Width: 20 mm
Shipping
• Delivery with Chronopost or FedEx within 3-4 working days
• In-store collection available within 3-4 business days
• Free Shipping
• Purchases are delivered in an orange box tied with a Bolduc ribbon, with the exception of certain items
• See the delivery FAQs for details on shipping methods, costs and delivery times
Payment methods
• By card: Visa®, MasterCard®, Maestro® and American Express® and UnionPay®
• Card payment authenticated and secured with 3D Secure: Verified by Visa®, MasterCard® SecureCode, American Express SafeKey®
• By PayPal®
Returns and exchanges
• Easy and complimentary, within 30 days
• See conditions and procedure in our return FAQs
All orders are delivered in an orange box wrapped in a Bolduc ribbon, excluding calendar products, books, Hermès Editeur objects, large objects and certain equestrian items. Hermès Editeur objects are delivered in a box including a book and a certificate of authenticity.
During checkout, you can include a card with a personalized message and a priceless invoice.
A customer can exchange a gift. For more details, please contact our
Customer Service.
The story behind
At the Cadre Noir national riding school in Saumur – a symbol of French equestrian tradition – horses and riders in ceremonial costume perform in the Grand Manège arena. Voltes, serpentines, spirals, diagonals: the figures executed by these high-level dressage riders and their mounts inspired the scrolls of Henri d'Origny's Grand Manège. In this detail from the original design, the imagination concentrates on the equestrian finery. Fabric rosettes, cockades, bits and stirrups, leather and buckles mark out on the silk the curves and lines traced by the horses during these demonstrations of virtuosity.
Each bracelet features an adaptation of the original design.
FAPIAO INFORMATION
Please fill Fapiao information in Chinese.
* Required information
Cart
You have no items in your cart.

Want to return an item?
To request an exchange or a refund, please to your account
Personalize your product

Grand Manege bangle
DKK3,900
Wide bangle in printed enamel with gold plated hardware
Diameter: 6.5 cm | Width: 20 mm
* Required information
Measure yourself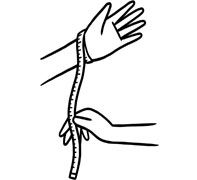 Taking the appropriate measures !
A bracelet should sit snugly on the wrist and not slide up and down. It should wrap around it, but not feel tight. To measure your bracelet size, hold out your hand with your thumb outstretched and aligned with your other fingers. Using a measuring tape or even a strip of paper, measure your hand circumference. Refer to the chart to discover your bracelet size. Go ahead, give yourself a hand!
Measure your hand circumference thumb included
| Hermès size | Hand circumference equal or less than |
| --- | --- |
| 62 | 18.2 cm |
| 65 | 19.1 cm |
| 70 | 21.9 cm |
| Hermès size | Hand circumference equal or less than |
| --- | --- |
| 62 | 7.2" |
| 65 | 7.5" |
| 70 | 8.6" |
Add an address
Edit address
* Required information
Already have an account?
Create an account
Thanks to your Hermès account, you will be able to:
• Access your shopping cart
• Save your billing and delivery information to order faster
• Manage your address book
• Access all your orders and download the related invoices
• Manage your newsletter subscription
• Update your personal data
Account
Create an account
* Required information
Have a question? You may find an answer in our FAQs. But you can also contact us:
* Required information
Women

Ready-to-wear

Bags and small leather goods

High jewelry and jewelry

Fashion jewelry

Men

Ready-to-wear

Bags and small leather goods

Home

High jewelry and jewelry

Fashion jewelry