Innovation by Hermès
Innovation by Hermès
Innovation is the result of a constantly renewed creative gesture.
It accompanies the momentum and spontaneity of creation while remaining true to the past. At Hermès, innovation is the perpetual motion of the house's spirit.
For designers and artisans, materials, know-how and attention to detail are merely the tools required to bring innovation to the fore.
For the genesis of an innovative gesture.
Innovation in materials
Material embodies form and feel, and evokes the strength of the senses, from the artisan's hands to the customer's. Materials are exacting. Together, hand and eye select the finest quality, transforming innovation into a sensory experience.
Men's three-button shirt-jacket in a patchwork of overdyed silk scarves.
Collier de chien and Évelyne cuff bracelets in anodised and mass-coloured aluminium. In Tropical orange, sunshine yellow, Aegean blue, and rouge H, the cuff bracelets are adorned with a perforated H or with pyramid studs.
Innovation in know-how
From a process or a technique, a guiding principle becomes unique know-how and, before long, a legacy. Discovering new skills, experimenting and innovating engenders iconic objects.
Extensive research has given rise to new know-how in working with silk. A technical innovation now allows silk to be printed on both sides with the same design, but in different colours and in a different way. Double-sided 90 x 90 cm scarf, Wow design, in pink silk twill. Two scarves in one!
It takes an artisan more than 24 hours of table work to make a Chaîne d'ancre tote in Barénia leather. Each leather link is crafted from the same piece of leather.
Men's double-sided 90 x 90 cm scarf, C'est la fête design, in silk twill. Back to front.
Innovation in details
Whether subtle or assertive, detail is the end result of careful thought; it defines the silhouette or complements a material; it innovates.
At Hermès, detail always has a purpose.
Plastron jumper, in double-face silk knit with open back, and tri-buckle details in palladium-finish metal. 
Men's straight-cut jacket in bubblegum pink technical cotton gabardine with zig-zag top-stitching.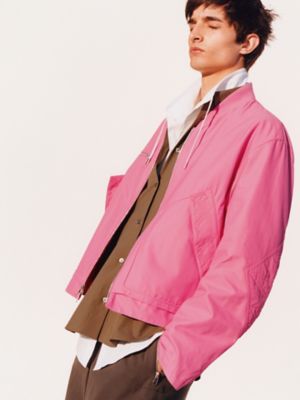 Something went wrong. Fear not, we will be right back

Something went wrong. Fear not, we will be right back
Thank you!
Your reservation request has been taken into account.

You will receive a confirmation e-mail from the store within four business hours.
Please, wait for the email confirmation before visiting the store.

FAPIAO INFORMATION
Please fill Fapiao information in Chinese.
* Required information
Cart
You have no items in your cart.

Want to return an item?
To request an exchange or a refund, please to your account
Here to help
But you can also contact us:
Frequently Asked Questions
See all FAQs
Add an address
Edit address
* Required information
Already have an account?
Create an account
Thanks to your Hermès account, you will be able to:
• Access your shopping cart
• Save your billing and delivery information to order faster
• Manage your address book
• Access all your orders and download the related invoices
• Manage your newsletter subscription
• Update your personal data
Account
Create an account
* Required information
Have a question? You may find an answer in our FAQs. But you can also contact us:
* Required information
Women

Ready-to-wear

Bags and small leather goods

Jewelry

Fashion jewelry

Apple Watch Hermès

Men

Ready-to-wear

Bags and small leather goods

Apple Watch Hermès

Home

Jewelry

Fashion jewelry

Fragrances

Shoes

Bags and small leather goods

Scarves and silk accessories

Equestrian

Reading and writing