Endless Road l Hermes
Endless Road
This Endless Road winding through a Californian landscape is the 2018 flagship pattern of the men's universe. Its infinite perspective is an invitation to set out on a night of adventure.
Invitation to travel
The leather collections use the Endless Road design both on small and big pieces. While the big Sac à courroies reproduces the whole landscape, every other piece shows it partly or from a different angle: the horizon on the Cityslide; a mountain on the cardholders and clutch bags; or even a motel key on the address book and keyholders. The motif also shines on the ready-to-wear collection as a rubberised lambskin patchwork embroidered on some pieces, and as intarsia jacquard knitted on cashmere pullovers.
Embroidered, knitted and stitched
The Endless Road motif has been designed in different ways on the pieces of the season. The leather goods collection uses an intricate patchwork resulting from leather marquetry, where the colours of the strips blend or match each other. On the smaller pieces, two-toned leather has been stamped to underline the relief print and recall the motel's sign.
As for ready-to-wear, the design appears in two ways: either as subtle glued-and-stitched leather embroidered on an elegant cashmere knit, or as intarsia on double-knit cashmere. This technique, which is like jacquard, makes it possible to reproduce intricate drawings without weighing down the featherstitch of cashmere.
Variations on the same theme
In the 2018 men's line, Endless Road comes in different materials and in several tones. Three pieces show embroidered leather patchworks: crew-neck pullovers in cobalt and charcoal cashmere; a sweatshirt in hazelnut suede goatskin with zipped collar in cashmere; and a double-threaded cashmere pullover.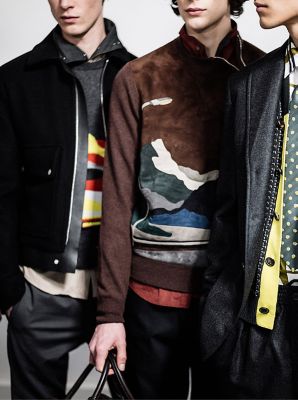 Something went wrong. Fear not, we will be right back

Something went wrong. Fear not, we will be right back
Thank you!
Your reservation request has been taken into account.

You will receive a confirmation e-mail from the store within four business hours.
Please, wait for the email confirmation before visiting the store.

FAPIAO INFORMATION
Please fill Fapiao information in Chinese.
* Required information
Cart
You have no items in your cart.

Want to return an item?
To request an exchange or a refund, please to your account
Here to help
But you can also contact us:
Frequently Asked Questions
See all FAQs
Add an address
Edit address
* Required information
Already have an account?
Create an account
Thanks to your Hermès account, you will be able to:
• Access your shopping cart
• Save your billing and delivery information to order faster
• Manage your address book
• Access all your orders and download the related invoices
• Manage your newsletter subscription
• Update your personal data
Account
Create an account
* Required information
Have a question? You may find an answer in our FAQs. But you can also contact us:
* Required information
Women

Ready-to-wear

Bags and small leather goods

Jewelry

Fashion jewelry

Apple Watch Hermès

Men

Ready-to-wear

Bags and small leather goods

Apple Watch Hermès

Home

Jewelry

Fashion jewelry

Fragrances

Shoes

Bags and small leather goods

Scarves and silk accessories

Equestrian

Reading and writing