Jaguar Quetzal bangle
CA$560
Hermes narrow bracelet in printed enamel, rose gold plated hardware
Diameter: 6.5 cm | Width: 9 mm
The story behind
The "jaguar warriors" of the pre-Columbian Aztec civilisation inspired Alice Shirley to dream up this big cat and its superb headdress, which is loosely inspired by the famous Penacho conserved in the Museum of Ethnology, Vienna. Made of feathers and semi-precious stones, this enormous headdress owes its beauty to the brilliance of more than 400 quetzal feathers. The quetzal is a tropical bird that lives in Central and South America, whose Aztec name means "long green feathers". The designer, who is passionate about the animal world, gives us a tender portrait: a sleeping jaguar "dreaming of freedom".
Each bracelet features an adaptation of the original design.
FAPIAO INFORMATION
Please fill Fapiao information in Chinese.
* Required information
Cart
You have no items in your cart.

Want to return an item?
To request an exchange or a refund, please to your account
Personalize your product

Jaguar Quetzal bangle
CA$560
Hermes narrow bracelet in printed enamel, rose gold plated hardware
Diameter: 6.5 cm | Width: 9 mm
* Required information
Here to help
But you can also contact us:
Frequently Asked Questions
See all FAQs
Measure yourself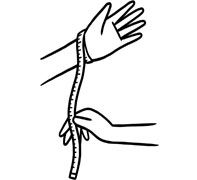 Taking the appropriate measures !
A bracelet should sit snugly on the wrist and not slide up and down. It should wrap around it, but not feel tight. To measure your bracelet size, hold out your hand with your thumb outstretched and aligned with your other fingers. Using a measuring tape or even a strip of paper, measure your hand circumference. Refer to the chart to discover your bracelet size. Go ahead, give yourself a hand!
Measure your hand circumference thumb included
| Hermès size | Hand circumference equal or less than |
| --- | --- |
| 62 | 18.2 cm |
| 65 | 19.1 cm |
| 70 | 21.9 cm |
| Hermès size | Hand circumference equal or less than |
| --- | --- |
| 62 | 7.2" |
| 65 | 7.5" |
| 70 | 8.6" |
What if the item doesn't fit?
If you're not happy with the way the garment fits we offer free returns for 30 days after purchase. For more info please see our
Delivery and Returns FAQ
.
Add an address
Edit address
* Required information
Already have an account?
Create an account
Thanks to your Hermès account, you will be able to:
• Access your shopping cart
• Save your billing and delivery information to order faster
• Manage your address book
• Access all your orders and download the related invoices
• Manage your newsletter subscription
• Update your personal data
Account
Create an account
* Required information
Have a question? You may find an answer in our FAQs. But you can also contact us:
* Required information
Women

Ready-to-wear

Bags and small leather goods

High jewelry and jewelry

Fashion jewelry

Apple Watch Hermès

Men

Ready-to-wear

Bags and small leather goods

Apple Watch Hermès