Della Cavalleria Favolosa bangle
CA$890
Hermes extra wide bracelet in printed enamel, palladium plated hardware
Diameter: 6.5 cm | Width: 38 mm
The story behind
Della Cavalleria is one of the most extraordinary treatises in the history of riding. Written by Georg Engelhard von Löhneysen, it was published in Bavaria at the beginning of the seventeenth century. This work, preserved in the Émile Hermès collection, is illustrated by Baroque engravings that depict, among other things, German sleighs drawn by fabulous creatures and richly adorned horses. Playing with these parties, the designer pushes the extravagance even further, creating a collage of hybrid creatures with the bodies and heads of horses and mythical beasts. And because in 2018 Hermès celebrates the theme of games, Virginie Jamin has wittingly handed a racket to one, a yoyo to another and a diabolo to yet another – creating bizarre associations worthy of a game of "consequences". 
Each bracelet features an adaptation of the original design.
Something went wrong. Fear not, we will be right back

Something went wrong. Fear not, we will be right back
Thank you!
Your reservation request has been taken into account.

You will receive a confirmation e-mail from the store within four business hours.
Please, wait for the email confirmation before visiting the store.

FAPIAO INFORMATION
Please fill Fapiao information in Chinese.
* Required information
Cart
You have no items in your cart.

Want to return an item?
To request an exchange or a refund, please to your account
Personalize your product

Della Cavalleria Favolosa bangle
CA$890
Hermes extra wide bracelet in printed enamel, palladium plated hardware
Diameter: 6.5 cm | Width: 38 mm
* Required information
Here to help
But you can also contact us:
Frequently Asked Questions
See all FAQs
Measure yourself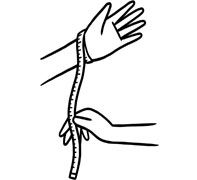 Taking the appropriate measures !
A bracelet should sit snugly on the wrist and not slide up and down. It should wrap around it, but not feel tight. To measure your bracelet size, hold out your hand with your thumb outstretched and aligned with your other fingers. Using a measuring tape or even a strip of paper, measure your hand circumference. Refer to the chart to discover your bracelet size. Go ahead, give yourself a hand!
Measure your hand circumference thumb included
| Hermès size | Hand circumference equal or less than |
| --- | --- |
| 62 | 18.2 cm |
| 65 | 19.1 cm |
| 70 | 21.9 cm |
| Hermès size | Hand circumference equal or less than |
| --- | --- |
| 62 | 7.2" |
| 65 | 7.5" |
| 70 | 8.6" |
What if the item doesn't fit?
If you're not happy with the way the garment fits we offer free returns for 30 days after purchase. For more info please see our
Delivery and Returns FAQ
.
Add an address
Edit address
* Required information
Already have an account?
Create an account
Thanks to your Hermès account, you will be able to:
• Access your shopping cart
• Save your billing and delivery information to order faster
• Manage your address book
• Access all your orders and download the related invoices
• Manage your newsletter subscription
• Update your personal data
Account
Create an account
* Required information
Have a question? You may find an answer in our FAQs. But you can also contact us:
* Required information
Women

Ready-to-wear

Bags and small leather goods

High jewelry and jewelry