Baobab Cat hinged bracelet
CA$840
Wide hinged bracelet in printed enamel with gold plated hardware
Wrist size: 17 cm | Width: 22 mm
Shipping
• Complimentary ground shipping within 2 to 7 business days
• In-store collection available within 1 to 7 business days
• Next-day and Express delivery options also available
• Purchases are delivered in an orange box tied with a Bolduc ribbon, with the exception of certain items
• See the delivery FAQs for details on shipping methods, costs and delivery times
Payment methods
• By card: Visa®, MasterCard®, American Express®, Diners Club®, Discover® and China Union Pay®
• By PayPal®
Returns and exchanges
• Easy and complimentary, within 30 days
• See conditions and procedure in our return FAQs
Your purchases are delivered in an orange box tied with a Bolduc ribbon, with the exception of fragrances, books, certain equestrian and bulky items.
During checkout, you can include a card with a personalized message and a priceless invoice. 
A customer can exchange a gift. For more details, please contact
Customer Service.
The story behind
Françoise de La Perrière's eye was caught by a collection of stirrups dating mostly from the 18th and 19th centuries. Entitled simply Étriers (Stirrups), this carré mixes fine ribbons and metalwork to evoke the glories of a bygone era, reflected in the beauty of each and every object. It was produced for the first time in 1964. Each bracelet features an adaptation of the original design.
Something went wrong. Fear not, we will be right back

Something went wrong. Fear not, we will be right back
Thank you!
Your reservation request has been taken into account.

You will receive a confirmation e-mail from the store within four business hours.
Please, wait for the email confirmation before visiting the store.

FAPIAO INFORMATION
Please fill Fapiao information in Chinese.
* Required information
Cart
You have no items in your cart.

Want to return an item?
To request an exchange or a refund, please to your account
Personalize your product

Baobab Cat hinged bracelet
CA$840
Wide hinged bracelet in printed enamel with gold plated hardware
Wrist size: 17 cm | Width: 22 mm
* Required information
Here to help
But you can also contact us:
Frequently Asked Questions
See all FAQs
Measure yourself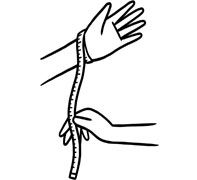 Taking the appropriate measures !
This bracelet opens and closes directly on the forearm like a cuff. Therefore, you only need to measure your wrist circumference when choosing your hinged bracelet. A properly fitted watch strap can serve as your guide. However, you can also use a measuring tape. The chart below indicates which Hermès sizes correspond to measurements.
| Hermès size | Wrist circumference equal or less than |
| --- | --- |
| S | 15.7 cm |
| M | 17 cm |
| Hermès size | Wrist circumference equal or less than |
| --- | --- |
| S | 6.2" |
| M | 7.1" |
What if the item doesn't fit?
If you're not happy with the way the garment fits we offer free returns for 30 days after purchase. For more info please see our
Delivery and Returns FAQ
.
Add an address
Edit address
* Required information
Already have an account?
Create an account
Thanks to your Hermès account, you will be able to:
• Access your shopping cart
• Save your billing and delivery information to order faster
• Manage your address book
• Access all your orders and download the related invoices
• Manage your newsletter subscription
• Update your personal data
Account
Create an account
* Required information
Have a question? You may find an answer in our FAQs. But you can also contact us:
* Required information
Women

Ready-to-wear

Bags and small leather goods

High jewelry and jewelry

Fashion jewelry

Apple Watch Hermès

Men

Ready-to-wear

Bags and small leather goods

Apple Watch Hermès

Home

High jewelry and jewelry

Fashion jewelry